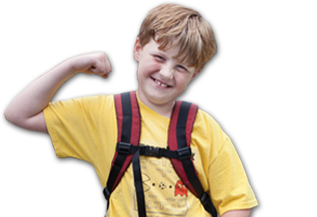 ---
When Should I Keep My Child Home?
These are the guidelines established by the Boys & Girls Club of Bellevue regarding childhood illness. If your child has any of these symptoms, please keep them at home, or make appropriate arrangements for their care.
Diarrhea - 2 more watery stools in a 24-hour period, especially of the child acts or looks ill.
Vomiting - Vomiting on 1 or more occasions within the last 24-hours.
Rash - Body rash not associated with diapering, heat or allergic reactions, especially with fever or itching.
Eyes- If there is a thick mucus or pus draining from the eyes, or signs of pink eye.
Appearance & Behavior - If your child is unusually tired, pale, lack of appetite, difficult to wake, confused or irritable. This is sufficient reason to keep them at home.
Sore Throat- Especially with fever or swollen glands in the neck.

Lice & Scabies - Children must not return to preschool until they are free of lice and nits (eggs). Children with scabies can come back after treatment.
Fever
Anything above normal (98.6) accompanied with a sore throat, rash, vomiting, diarrhea, earache, irritability, or confusion. Fever by itself is usually enough reason to keep your child at home for the day allowing them to rest.
Cold Symptoms
Children with mild cold symptoms, who do not have any of the above symptoms, do not need to stay home. Chronic greenish nasal discharge and/or a chronic cough should be seen by a healthcare provider.
Ear Infection
Children with ear infection are welcomed to come, but they need to get medical treatment and follow up care. Untreated ear infections can lead to permanent hearing loss.
While we regret any inconvenience this may cause, we need to enforce this policy to protect all the children in our care, as well as the teachers. If you have any questions, please ask! However, the Director reserves the right to make the final decision.
Questions? Contact Sara Hill at Great Futures Preschool or call 425.454.6162.
BE Healthy
Community
"Great Futures Preschool is such a wonderful program. We really enjoy the sense of community the program has to offer" – Sharon
Experience
"The experience that the teachers bring to the classroom is priceless"- Mel
Hidden Gem
"I didn't even know that the Bellevue Boys and Girls Club had a preschool. We are so thrilled to have found this gem"- Christa